Hey folks!
As many of you know, PAX East 2016 is this coming weekend, and if you didn't know that, shame on you!  We'll be there all three days, hanging out, making videos, the whole shebang!  George and Al will be on the show floor all three days, and will be in the area from Thursday through Monday, so if you see them at any point make sure to go up to them and tell them how terrible they are at everything.  Simon will be joining them at PAX on Saturday, so make sure to bug him too if you see him.
If you're going to the convention, or in the area, and are looking to meet any of them, you're in luck!  We've already organized meetups for each day of the convention, both inside the convention center and outside as well for people without tickets.  Details can be found in the handy image below.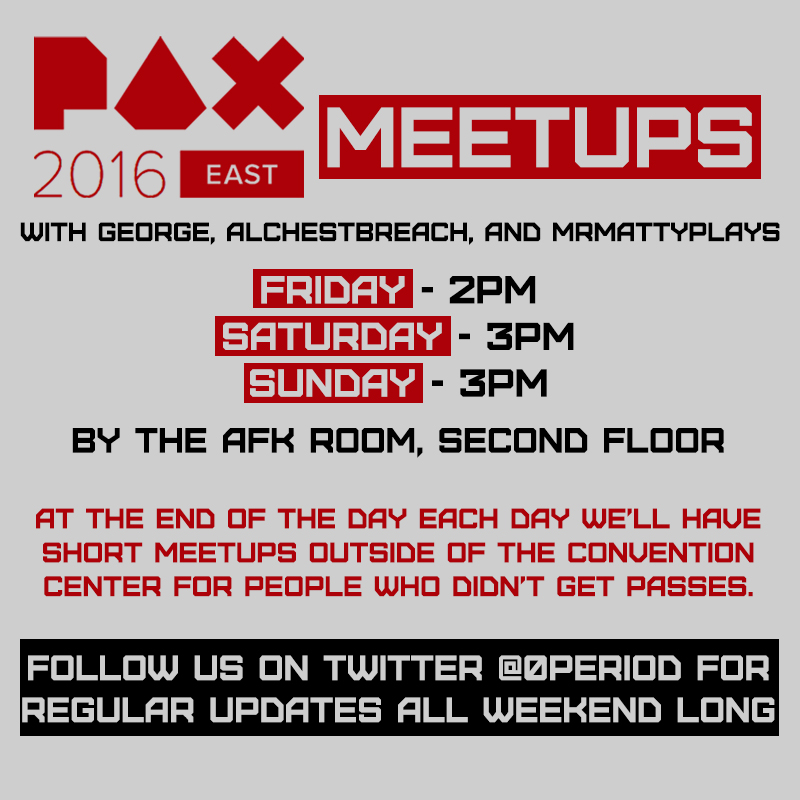 George is currently scheduled for an on-stage appearance at the Maker Booth (booth # 4164) on Sunday at 10:30 AM.  Those at the convention center can watch it in person at the Maker booth, and those who can't make it can check it out on Verizon's go90 app.  Currently we're discussing the possibility of other on-stage events and streams with our event coordinators, so we'll keep you updated via Twitter and the like.
Happy PAX everyone!